Leaders
Our leaders are volunteers and come from all walks of life. They are from a wide range of Christian traditions from ordained ministers to charity workers and business people. They are all trained in leading group walking holidays and have discovered a closeness to God through travel to remote places and have a passion to share this with others.

We are always pleased to hear from people interested in discovering more about journey leadership with Journeying. Please get in touch on the Contact page.
Paddy Allen
Biography
Paddy currently serves as Rector for four small congregations across Strathearn in Perthshire Scotland. She lives with her husband, Bruce, and sheepdog, Gus, in Crieff, while their son works as an artist in London. She grew up on a farm in Zimbabwe, later lived in a fishing village in Cape Town, and has always loved the outdoors, walking, wild swimming, sketching all the intriguing things you find as you explore. She taught spirituality as part of the ordination training programme for the Scottish Episcopal Church and has a passionate desire to help people experience the wonder of God tangible in all things around us. She has led retreats and recently set up an annual pilgrimage along the Three Saints Way as part of the developing St Andrews to Iona pilgrim route.
---
Rosemary Clarke
Biography
Rosemary Clarke lives on the Isle of Man and loves the beauty and variety of its landscape. She works in Global Education which raises awareness of the disparity between the standard of living that we enjoy and that experienced by more than two thirds of the world's population. She has recently been licensed as a Reader in the Anglican Church and particularly enjoys coastal walking.
---
Ian Coward
Biography
Ian lives in Leicestershire and left his corporate career in 2017 after 40 years in industry. He now works as a freelance International Mountain Leader and since 2008 he has led holidays with groups of all ages in the UK, Europe and beyond to places as varied as the Camino de Compostela, through to Everest Base Camp, Tour De Mont Blanc, Walker Haute Route, and Wainright's Coast to Coast.

He sees his core purpose as service to others to provide a well-crafted walking journey that seeks to create a fellowship of shared reflection where there is time to consolidate in places where one can pause, think and pray. He aims to encourage and embrace new insights on a "platform" that is safe and well within the individual's capabilities.
---
Phil Craine
Biography
Phil Craine lives in his native Isle of Man where he enjoys exploring the hills and coast. He loves walking to recharge his batteries, and is particularly fond of the South West Coastal Footpath & the English Lakes. He'd like to see a fairer division of the world's resources and is involved with Christian Aid. Back in the 80s he spent a couple of years working in Pakistan with Church Mission Society, for whom he later co-led groups of young people to Russia and Pakistan.
---
Sue Degnan
Biography
Sue Degnan lives in West Yorkshire, where she works with asylum seekers and refugees. She is a Third Order Franciscan and has taught on the West Yorkshire and the Dales Diocesan Spirituality Course. She has had a varied past career, which includes working as a tour guide on holidays to Germany and Austria and charity treks in China and Egypt. Sue has loved walking in the northern national ​parks for many years and joined the Journeying team in 2015.
---
Steve Evemy
Biography
Steve Evemy spent most of his working life with Royal Mail, based mainly in London. In 2004 he started a new career working near his home in Southampton, where he had lived since 1979. He retired in 2018. He is married with two grown-up sons, still lives in Southampton, and says that he is so glad to have escaped from doing paid work. His first journey with us was in 2001 to St Kilda, where he enjoyed the companionship offered by a small group of fellow Christians from a variety of backgrounds. Since then Steve has enjoyed becoming a leader and has tried to facilitate similar experiences for others in those remote places where the spirit seems more accessible than in our busy modern world.
---
Karen Garrett
Biography
Karen loves the outdoors, especially Islands and remote places which being a native islander means wonderful hills and coastal paths to walk on her doorstep in the Isle of Man. She has made two pilgrimages on Camino routes and is looking to walk more of them. She has lived in North Wales, spending many a happy hour exploring it on foot, including favourite places such as the North Wales Pilgrims Way, an ancient route which runs from Holywell to Bardsey Island as well as the Anglesey Coastal Path.

She is currently the Local (Licensed Lay Minister) of the Village Church where she lives, a retreat giver and the Diocesan Spirituality Adviser. When she is not walking or working, she enjoys helping out with her sister's grandchildren and trying to play golf and singing.
---
David Gleed
Biography
David was brought up in the West Country and trained as a teacher in Wales before pursuing theological and pastoral studies in Bristol. He has been involved as a leader with Journeying from its very earliest days, taking many holiday journeys in Britain and Ireland. Home these days is in Pembrokeshire, with its deep Celtic heritage and wonderful coastal scenery, where he lives with wife Pippa (an Associate Leader with Journeying) and youngest daughter, Katy.
---
Gill Page
Biography
Gill has always relished being outdoors in God's creation, from horse riding as a child to walking the hills and dales of Yorkshire where she grew up. Travel has been another joy, joining the community life of a kibbutz when she was 19 and picking the grapes during the vendange (grape harvest) in the vineyards of France during her 20's.

Gill retired as a Church of England vicar in June 2021, serving 11 years in the Diocese of Manchester and has also been a primary school teacher and a children's and schools worker in the Diocese of Bradford. She has 2 children and 3 young grandchildren and lives in a little village near the border of North Yorkshire and Lancashire where she can walk from her doorstep.

Gill also draws spiritual inspiration from reading poetry and learning about different artists, especially Van Gogh and his love of being in and painting nature. Gill's first holiday with Journeying was in 2005 to Iona and Tiree and has holidayed ever since. The companionship mixed with gentle Celtic Spirituality drew her in and has led to her becoming a leader.
---
Sue Peachey (Associate Leader)
Biography
Sue Peachey is originally from Bristol but, having lived in various places, has now settled in Warminster, Wiltshire, where she lives with her husband and two dogs. She has two children, four grandchildren and one great-grandchild. Her hobbies include choral singing and amateur dramatics and, of course, a love of walking. She is particularly enjoying exploring Salisbury Plain and the surrounding beautiful countryside.

Sue became involved with Journeying firstly by attending day walks, then holidays, and eventually became a Leader for several years. She is now happy to be an Associate Leader and still takes a keen interest in all that Journeying has to offer.
---
Huw Riden (Associate Leader)
Biography
Huw Riden recently completed training for the Anglican priesthood at St. Padarn's College,Cardiff. Home is now Exmouth, Devon where he lives with his wife and two sons. Huw returned to the UK in 2015 after spending ten years as a military advisor in the UAE Armed Forces. Before that he served in the Second Battalion of the Parachute Regiment. He is an avid photographer and shares a passion for motorbikes with his wife who also rides and loves walking. While growing up in North Wales, and attending a Welsh medium school, Huw developed a heavy resonance with Celtic culture. Combined with a love of the outdoors and history, he knows Journeying is a great place to be.
---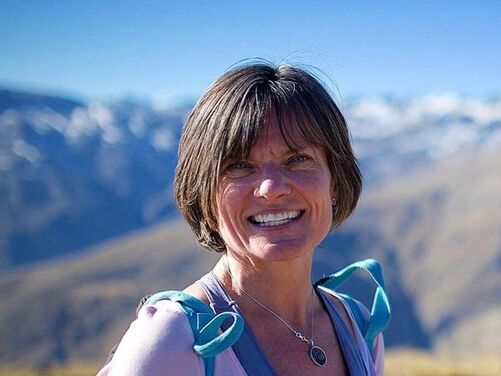 Cheryl "Pepper" Tettmar
Biography
Cheryl (also known as Pepper to her friends), is now based in the hills of Sri Lanka. Her home is on the slopes of a tea plantation on the edge of the Sinharaja rainforest. Surrounded by green in beautifully wild, remote settings, is where she most loves to be and where she experiences her communion with God most intimately. This deep connectedness with the natural world is what she most loves sharing with others and why she was drawn to joining the team. Touring the world by bicycle and camping wild, is the form of journeying she most cherishes but these days roaming in forests, mountains and meadows is her deepest joy and where she most loves to be.

As an adult, she has been very busy 'doing and 'going': she has a B.A. in Social Science; was a Police Officer for 12 years; a language teacher for 9 and is the mother of two daughters. However, she considers herself to be so very blessed in being able to experience a different way of being in the world now. Working in rural locations around the globe as a volunteer, she is involved in projects, communities and with people who need support or ask for help. She describes it as "a simple, uncluttered life of faith, that allows for lots of surprises, encounters with the unexpected and opportunities to meet strangers who then become the best of friends."
---
Iain Tweedale
Biography
Iain Tweedale lives in Wales with his wife Sue where he works in the media. His family tree has branches in Ireland, Scotland and Cornwall which might explain his love for remote Celtic landscapes. He is a lay Cistercian with close connections to Caldey Island where the mix of nature and contemplative Christianity fits well with the Journeying way.
---
Duncan Weaver
Biography
After a varied career and many house moves Duncan and his wife Joan recently moved to live in Fife in Scotland where they are enjoying discovering the beauty of this land. They have four children and nine grandchildren. Duncan enjoys practical things and the great outdoors, whether it be walking cycling and even wild swimming. They both appreciate the way that God often speaks to us the most when we are away from our normal places especially in the beauty of God's creation.
---
Robin Westwood
Biography
Robin Westwood lives in Devon. He is an ordained minister in the Orthodox Church and he also works in nursing. In his spare time over the years he has led walks and tours in The Holy Land, Spain and especially the Camino Santiago de Compostela. He has also led Charity Treks in China (The Great Wall) and Peru (the Inca Trail). His interests are wide ranging, from Monastic History and Spirituality to Islamic Art and Architecture. He enjoys walking the long distance footpaths of rural Britain and also canal walks. He has worked in a voluntary medical capacity in the West Bank (Palestine) and also in Nepal which has always been a very special place in his life. He joined the Journeying team in 2015.
---
Jill Atkinson (Associate Leader)
Biography
I first went on a Journeying holiday to Orkney in 1998 and then having joined the leadership team, co-led in Ireland during 2003 where we climbed Croagh Patrick and visited the 'away from it all' Island of Inishbofin. Since then I have led many holidays particularly in the West Country and mainly in my beloved Cornwall. I feel very privileged to have been able to visit some amazing places with Journeying and also to meet some amazing people with whom to share our faith.
---