Journeys 2022
All Journeying holidays are fully inclusive of accommodation, transport from the starting point of the holiday (you will need to get yourself to the starting point), entrance fees and meals except casual refreshments and where half-board arrangements exist. To make a booking, please go to the Bookings page. We grade each type of walk by length and terrain covered so you can choose the right holiday to suit you. To find out more go to the Walk Grading page. Also, please remember to book early due to the small size of our groups.
Date
22nd May - 28th May 2022
Cost
£995 in a double/twin shared room with en-suite facilities £1120 in a single en-suite room Price includes: >6 nights bed and breakfast, 6 evening dinners and daily packed lunches for your Camino. > Handpicked personal guides over the 7 days >Private guided tours…
Description
St Declan was a 5th Century saint who brought Christianity to the south and east of Ireland. He is thought to have pre-dated St Patrick by some years and this pilgrimage re-traces his steps as he returned to his coastal…
Walks and Excursions
The Celtic Camino Stage 1 (Monday): Cashel to Cahir We will visit to the Rock of Cashel before the start of our first day's Camino. The 'city of kings' was home to the high kings of Munster who ruled for centuries…
Accommodation
On Sunday night we stay at the 4 star Tower Hotel in Waterford. Monday night to Thursday night is at Mount Melleray Cistercian Abbey near Cappoquin with comfortable en-suite rooms. Guests are welcome to join the monks in their services if…
Getting there
Please arrive at the Tower Hotel, Waterford (X91 VXEO) by 4pm and 6pm on Sunday 22nd May. There is free car parking at the back of the hotel for guests. For guests coming from the UK, we will also have…
Contact
With Dr Phil Brennan and Elaine Brennan from Waterford Camino Tours and Iain Tweedale from Journeying. For more information please contact Iain at tweedale.iain@gmail.com +44 (0)7904 042976 or Phil at info@waterfordcamino.com +353 (87) 994 7921
Northumberland, England
Date
23rd – 27th May 2022 (Full)
Description
The beautiful island of Lindisfarne (Holy Island) is one of Britain's foremost places of pilgrimage. For many it is a kind of fairy tale place, a world apart shrouded in myth and legend. Its spiritual qualities are there for all…
Walks and Excursions
During our time on Lindisfarne, we will be joined by Mary Gunn, an island resident and a member of one of the local fishing families, who will take us on two two-hour journeys around the island. With her knowledge and…
Accommodation
We will be staying at Marygate Retreat House. All rooms share facilities, no en-suites. Our stay will be on a full board basis; Breakfast, Lunch and Evening Meal, (Special diets are catered for). The days we are out we will…
Getting there
Marygate House is located on Lindisfarne/Holy Island off the coast of Northumberland. By Car: Most people come to Marygate by car, the approach to the island is by way of the A1, turning east off the A1 about 12 miles from…
Contact
Steve Evemy: Email steveevemy@gmail.com Tel: 07498 571 648
Date
15th-22nd June 2022 (FULL - reserve list open)
Cost
£1000 single en-suite. £900 single with shared facilities. £900 double/twin ensuite
Description
This holiday provides a full week on the large and varied Hebridean island of Mull, with a day trip to each of the two small islands of Iona and Ulva, which lie a short distance to the west of Mull.…
Walks and Excursions
In June we will benefit from the long daylight hours. Walks and visits will be offered each day. While we hope for sunny days, the island is in the path of the Atlantic Gulf Stream, so of course it…
Accommodation
We will have the exclusive use of Arle Lodge, a good quality hostel in which all rooms are for single occupancy, or for shared occupancy by a couple or two friends. Most of the rooms are en-suite. Arle…
Getting there
There are good train and bus services from Glasgow to Oban. They are similarly priced, and both take about 3 hours. The train journey is a delightful scenic route. See the Scotrail web-site for train times, and…
Contact
Steve Evemy 02380 332940 steveevemy@gmail.com and Karen Garrett
Date
Friday 8th July – Monday 11th July (Full - Reserve List Open)
Cost
£425. If you are booking a twin room please mention on the Booking form who you will be sharing with.
Description
Llangasty Retreat House sits beside the shores of Llangors Lake just 6 miles to the south-east of Brecon. It is a haven of peace amongst some of the most stunning scenery and historical landscapes in southern Britain, yet is about…
Walks and Excursions
Among other wanderings, we have two prime walks; one on Saturday and one on Sunday. On Saturday we head for the hills, on Sunday we stay close to the shore. Saturdays walk is graded medium in length (no more than 7…
Accommodation
Three nights at spacious, Llangasty Retreat House, formerly a large Victorian Rectory, standing in its own grounds, overlooking Llangors lake; in single or twin rooms (not ensuite) Breakfast, Lunch (packed on Saturday) and Evening meal, are all provided by the…
Getting there
Please arrive at the Retreat from 3 p.m. Car parking is available. The nearest Railway station is Abergavenny. A 35-minute taxi ride brings you from the station to the Retreat. If you would like to share a taxi let us…
Contact
With David Gleed +44(0)7896 285839, davidgleed2@gmail.com) and Gill Page.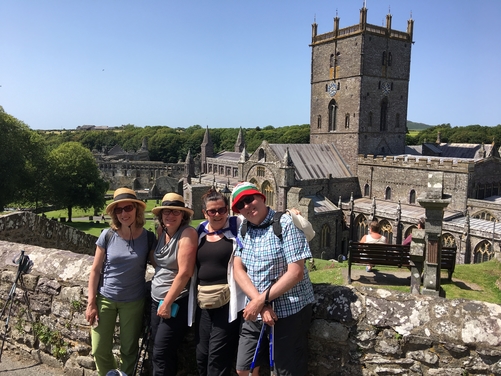 Date
24th-30th July 2022 (Full)
Cost
£890 for a single occupancy room. £790 per person for a shared twin room (or double room if preferred). Please note on the booking form the name of the person you want to share with.
Description
In medieval times the pilgrimage route to St Davids was as important a destination as the Camino in Spain. Indeed, in 1123 the Pope declared that two pilgrimages to St Davids were the equivalent of one to Rome. Thousands of…
Walks and Excursions
For five consecutive days we will walk around 20km (13 miles) on what Lonely Planet describes as the finest coast path in the world. Day one takes us from Llangwm to Gelliswick Bay near Milford Haven. Day two is from…
Accommodation
Although we will be going on five sequential linear walks, we'll be staying at a single location in a cozy cottage in the former fishing village of Llangwm. This enables us all to stay in one house together and we…
Getting there
Please arrive on the first day between 2pm and 4pm in time for a walk around the beautiful former fishing village of Llangwm at 4pm. For people arriving by train the nearest station is Haverfordwest, the county town of Pembrokeshire.…
Contact
With Iain Tweedale (07904 042976 tweedale.iain@gmail.com) and Cheryl Tettmar.